Meet Miss Bountiful and Davis County!
Miss Bountiful – Keva's Biggest Fan!
Teale Shawn Murdock was born in Los Angeles, California to beach and Beatle loving parents! They soon relocated to Utah for the early part of her life before moving around the country for nearly a decade. She loved seeing new places and making lasting friends in states including Florida, Georgia and Texas! Nearly two years ago, Teale and her family finally made it back to Utah and the Salt Lake City area! Teale is proud to come from a family of high moral value, love of music, and the everyday enjoyment of life and the opportunity of tomorrow.
Teale has been competing in pageants since she was 14 winning several titles including Miss South Jasper County 2006, Miss Cinderella Teen 2007, Miss Golden Triangle Teen 2007/2008, and finishing in the top 3 at the Miss Texas National American Miss pageant. Last year Teale made it to the top 5 at the Miss Utah USA pageant. She has high hopes for this year's competition and cannot wait to compete again! Teale would like to thank all her family, friends, coaches, and sponsors for their unlimited love and support!
Why Teale likes Keva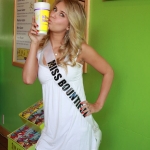 "I was introduced to Keva Juice shortly after returning to Utah by a friend claiming, 'Keva is probably the best smoothie place ever!' Mildly amused I went along with it and shortly found out, he wasn't kidding! I love Keva's many varieties of juices from light and sweet to the bold and tangy! Their staff is very friendly and I always get a laugh out of their greetings and send offs like 'have a keva-licious day!' or 'have a keva-kahuna night!' Always upon stopping by I am asked 'what can we blend for you today?' On several occasions I replied with 'surprise me!' Frankly, I have always been surprised and never let down! Each new smoothie is always better than the one previous!"
Teale's 5 Favorite Kevas
Keva Kolada with strawberries
Hawaiian Holiday
Citrus Sunrise
Gimme Guava
Passion Paradise